If you ask a group of people which color combination they would wear to prom, most of them would say black and red. Red is a classic color that's sultry, sexy, and sophisticated. It looks fantastic no matter what your skin tone is.
When you pair this with black, which is also a sophisticated color that pairs well with most skin tones, you have yourself a drop-dead gorgeous prom dress. 
 If you're in the market for a black and red prom dress, we've come up with a list of some of our favorites. The styles vary and include halter, strapless, and mermaid, and are made from a range of materials that include satin, lace, tulle, and more. 
Below are some of our favorite black and red prom dresses that are sure to make your date's jaw drop. 
Top Black and Red Prom Dresses
1.Gothic Sweetheart
First up is this sweetheart strapless tulle ball gown. It features designs in vintage black lace against the blood-red fabric. We love this dress because it's tight-fitting against the top but loose and puffy at the bottom.
It has a drawstring closure and a corset back. It comes in a variety of red hues and fits sizes 2-22 plus with a price tag of $140. 
2.Over The Shoulder
This over-the-shoulder dress is a draw dropper. It has one strap that goes over the right shoulder and merges with the chest piece. It's a color block style of red and black with a sheath silhouette.
There's a zipper on the side of the dress and it has a built-in bra. It's definitely not a traditional prom dress, but beautiful nonetheless. This chiffon dress costs just $151.99 and comes in sizes 00-26W.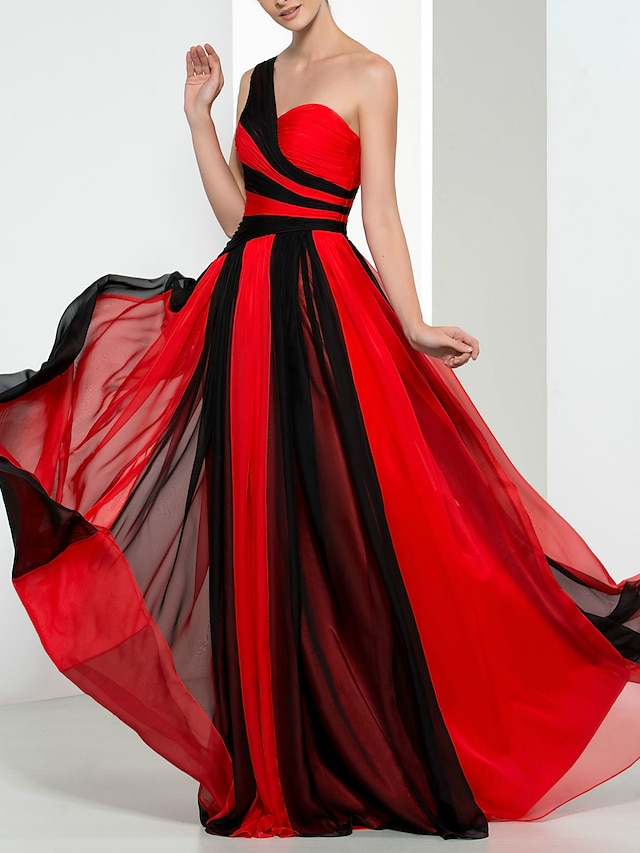 3.Chic
This is one of our favorites! This red and black sleeveless scoop-neck illusion bodice dress features a swirling embroidered pattern that showcases the sweetheart lining.
There's a matching lace pattern that trims the inner hem of the high-low skirt. High-low dresses are one of our top picks because of how stylish they are. The dress is made with satin and lace with a zipper in the back and a built-in bra. It's just $176 and comes in a size 2-26W. 
4.Ombre Magic
Ombre colors have increased in popularity over the years and make this dress that much more unique. The dress starts as black and transforms to red at the bottom. It features a V-neck with a built-in bra and lace-up back.
The fabric is chiffon with a beaded crystal belt design around the waist. The straps are scrunched for an even more unique look. You can get this dress in different red and black variations for $79.99. It fits sizes 2-26 plus. 
5.Show-Stopper
If you're more daring than most, consider this remarkable black and red maxi dress. It features a tie-back closure and cowl neck design. The straps are adjustable and the skirt is see-through.
It has a high slit and is made of 100% polyester. This dress is certainly going to turn some heads. Pair it with some crystal earrings and a black clutch. It comes in sizes extra small to large and costs just $59.90.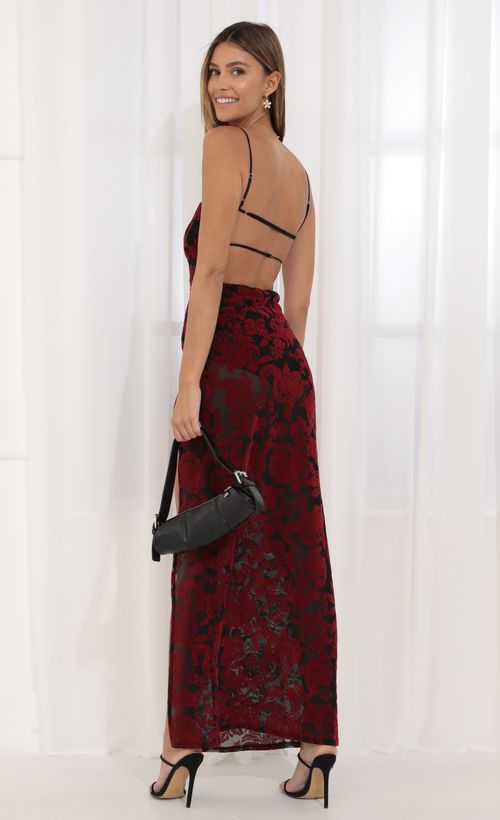 6.Short & Sweet
How about a short dress? This chic A-line dress is a favorite of ours. It features a red and black ¾ sleeve top with a black lace flower design and a flat black skirt. It has a V-neck and side zipper.
It's made from 95% polyester and 5% spandex, making it just a little bit stretchy. It flows at the knees and comes in sizes 4-12. You can snatch this elegant dress for just $45.99-$40.99. 
7.Asymmetric Ribbon 
This gorgeous sequin chiffon mermaid dress is drop-dead gorgeous. It has an ombre color pattern starting with black and turning wine red. The dress features one ribbon shoulder strap and is covered in glitter.
You can choose how you want to tie the shoulder strap as well. We like everything about this dress, especially the mermaid style. It comes in sizes small-2XL and costs $89.99. 
8.Hi-Low Two Tone
Is it hot in here or is it this dress? This simple, yet elegant dress is an absolute stunner. It features a halter top high-neck with a hi-low skirt and built-in bra. It has a lace-up back and corset closure with an empire waist.
The outside of the dress is red and the inside is black. There are a couple of shades of red you can choose from and it comes in sizes 2-26 plus and can be custom-made. It costs between $29.00-$79.00. 
9.Beaded Beauty
This is a variation of an earlier dress we mentioned, but we loved it so much, that we had to list it.
This dress has a beaded strappy top with a red and black A-line bottom. It has a built-in bra and a half-open back with drawstring closure. The fabric is chiffon and we love it. It comes in sizes 2-26 plus and costs between $75.99-$119.99. 
10.Ruched Ruffles
This sexy black and red dress are elegant and mysterious. It has a round neckline and is sleeveless with a black lace design on top of red fabric. The slit is mid-thigh with ruffles that go up into a ruched waist.
There's a slight mermaid silhouette and a concealed back zipper. There's also an adjustable zipper on the slit that allows you to choose how much leg you want to show. It comes in sizes extra small-3XL and costs between $55.99-$69.99. 
11.Beaded A-Line
This beaded A-line dress is gorgeous. It features an ombre gradient chiffon with crystals and a lace-up back design. The dress starts as black and transitions to red and goes to the floor. It's made from a lightweight chiffon material and has just one shoulder strap.
It has a beaded design on the left side and beaded accents on the shoulder strap. It comes in sizes 2-26 and costs between $79.00-$109.00. 
12.Flapper Dress
Why not go old school with a 20s flapper dress? This sequin dress starts as black and transitions to red in an ombre fashion.
It has a zipper closure and a built-in bra for comfort. It has a V-neck with tulle and a detailed V-back. The dress is fully lined and has medium shoulder straps. It fits sizes small-XXL and costs between $78.99-$82.99. 
13.Glittery Mermaid
This dress is spicy! It's a strapless sequin mermaid dress made from high-quality satin, sequins, and an elastic lining. It has a lace-up corset closure with a built-in bra. The top of the dress is a glittery red with a black and red bottom.
The bottom is black and the inside is glittery red. It has a high slit and is floor length. It fits sizes 2-26 plus and costs just $89.99. 
14.Leafy
Let's take it down a notch and recognize this simple, elegant dress. It has a unique crewneck, short sleeve design with patterned red sequin embellishments in the shape of leaves.
It has an empire waistline and goes all the way to the floor. It's made of stretchy polyester fabric and is lightweight. It comes in sizes small-XXL and costs between $69.99-$71.99. 
15.Vintage 50's 
Last up on our list is this 50's vintage Rockabilly halter dress. It features an elasticated back with a removable belt.
The dress itself is red but has black accents. You can put a petticoat or underskirt under the dress for a more puffy look. It's made of 98% cotton and 2% spandex. It comes in sizes extra small-3XL and costs between $22.99-$28.99. 
How Do I Pair Accessories With A Black and Red Prom Dress?
Pairing accessories with a black and red prom dress is easier than you think. Since there are two colors in the dress, you can choose from two or more colors for shoes, bags, earrings, and more.
If your dress is primarily red, consider red or silver shoes and a matching clutch. If your dress is primarily black with red design features, you can never go wrong with black or red shoes with black accessories. You could even go a step further and try to find black and red heels with a black and red clutch. 
What is a "Pop" Color?
A pop color is a color that you can use to make your dress and style more unique. If you have a red and black dress, you can use pink, purple, blue, green, and yellow to make the dress more uniquely you.
Wait! You can't forget sparkles! You can pair sparkles with anything. Consider wearing sparkly earrings, eyeshadow, or shoes. 
You can make these colors pop by wearing a bright yellow pair of spandex shorts under a high-slit dress or a baby blue pair of Converse sneakers under your mermaid dress. 
Final Thoughts
As you can see from the dresses above, red and black are a huge hit at prom. The color combination is elegant, mysterious, and sometimes a little gothic. We love that the color combination works with any style of dress and can be paired with other colored accessories.
Don't be afraid to put a little "pop" in your ensemble. Wear a cute pair of red sneakers or blue crystal earrings. You can even use your date as your "pop" effect! Try it out and thank us later.