A mermaid dress is a long gown that fits tight to the body until it gets to the bottom of the legs and then it flares out like a fishtail. This is why a mermaid gown may also be known as a fishtail dress.
These are especially popular for prom and wedding dresses. Generally, the dress is made from thin fabric such as silk, satin, or taffeta. If they're made from thicker material, the flare will be stiffer. 
We love the mermaid-style dresses because they remind us of 1950s movie stars. A lot of them wore elegant mermaid gowns. It wasn't uncommon for these dresses to have long sleeves either. So if you're looking for a long sleeve mermaid prom dress, we have created this list of some of our favorites. 
Long Sleeve Mermaid Prom Dresses
Below are some of our favorite long sleeve mermaid prom dresses. 
1.Red Feathers
This beautiful red mermaid dress is made of tulle, feather, and applique. It has a high neck, sweep train, built-in bra, and zipper closure.
This dress spins the traditional style of mermaid dress in a fabulous way. It has some sparkle to it and you can get it in burgundy and red. We love that there's a size for everybody from 2 to 26 plus. This gorgeous dress is just $119. 
2.Satin & Lace
We love this dress because it comes in 14 colors and has a more traditional look to it. It features a stunning lace top with just enough padding to go braless. It's tight-fitting to the knees where it flares out in all its satin beauty. You can find this dress for $109 and in sizes 2-26 plus.
3.Simple & Sexy
If you're more of a simple person, you'll love this dress. It's a plain polyester and spandex dress in 14 colors and just a small fishtail bottom.
It has a sweetheart deep v-neck and an open back. It's very tight-fitting and comes in sizes 2-2XL for just $30.99. It's definitely one of the cheapest options out there. 
4.Sequin Elegance
Sequins are all the rage today. No matter where you go, you'll see sequins. This beautiful backless sequin prom dress is an affordable option for everybody. It's made of 100% polyester with a zipper closure.
It comes in gold, black, and red, costing only $78.99. You can get it in sizes small to extra-large. 
5.Sequins & Feathers
Sequins and feathers are a great combination for prom dresses. This Lin Lin Q Sexy dress is off the shoulder and backless.
We love a nice backless dress. The feathers stick up and go around the top of the dress. It's made from 90% polyester and 10% cotton. It comes in 7 colors and sizes small to extra large for just $79.89. 
6.Lovely & Chic
This dress isn't insanely over the top. It's chic and simple with a little flare to it. This mermaid gown has a backless design and built-in bra with non-slip adhesive to avoid the top of the dress from falling.
The dress features high-quality sequin and retro geometry design. The fabric is stretchy and fits sizes extra small to extra large. It comes in 5 colors and costs just $66.99. 
7.Sexy & Modern
Why not try something more modern? This dress doesn't feature any fancy feathers or sequins, just an elegant flower design.
It's made from lace and satin with a zipper closure. It has long sheer tulle sleeves and a floor-sweeping mermaid bottom. It comes in 15 colors and fits sizes 2-26 plus with a price starting at $91.90. 
8.Ever-Pretty
Ever-Pretty has been known for its gorgeous dresses. This see-through, off-the-shoulder mermaid dress is one of our favorites. It features a beautiful sequin upper with a plain lower for a unique look. It comes in 5 colors, fits a 4-22, and costs just $59.99. They recommend you order this dress a size up for optimal fitting. 
9.Velvety
Here's something pretty unique! This mermaid dress is made from velvet and has an off-shoulder long sleeve.
It has a medium stretch and a zipper back. The neckline isn't plunging, but it fits right above the chest. It comes in 10 colors, fits sizes 2-22 plus, or can be customized to fit your specific size. It costs just $79.99. 
10.Drop Dead Gorgeous
This unique mermaid prom dress is one for the books. It features a solid sequin top body with a see-through mermaid tail bottom. The sleeves are off-the-shoulder to expose your clavicle.
It has a high waist design that makes your legs appear to be longer. It has a deep v-neck and comes in a ton of different colors. You can get it in sizes small to 18 and costs $32.99-$79.99. 
11.Open Back 
This is an absolutely elegant dress. We love the open back and the scoop neck. It features a built-in bra, lace fabric, and zipper closure. It's fully lined and has a sweep train with a mermaid silhouette. It comes in an astounding 56 colors and fits sizes 0-26W for $180.
12.Plain Jane
If you're more of a simple person, you can still feel gorgeous in this plain white long sleeve mermaid maxi dress. It's medium-weight, slightly stretchy, and has an elegant V-neckline with a princess-seamed bodice.
There are no-slip strips at the shoulders and a high, fitted waist. The dress is 95% polyester and 5% spandex with a 100% polyester lining. It comes in sizes extra small to 3XL and costs just $99.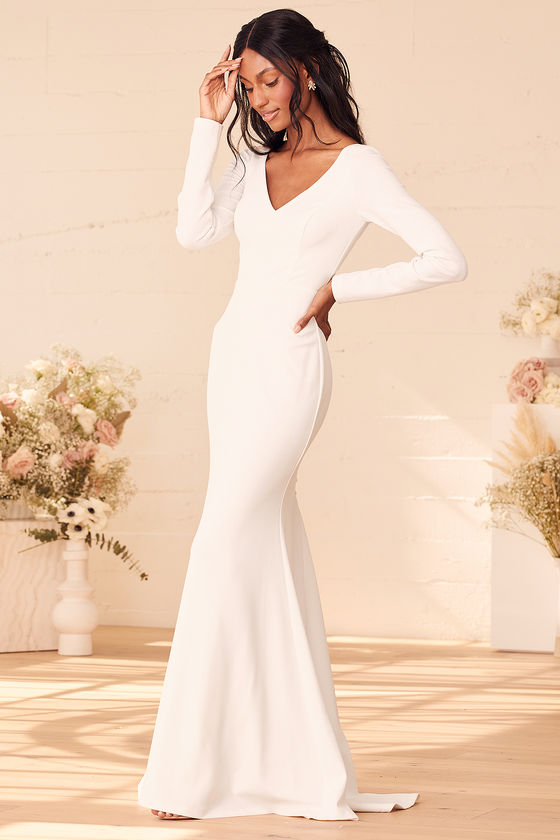 13.Sophistication
This gorgeous plain Bodycon mermaid dress is a great pick. We like it because it's simple, but still draw-dropping. It features a deep V-neck with long sleeves. It has a slight stretch polyester material with a slim fit.
You can get it in burgundy, dark green, or navy blue and in sizes small-extra large. It costs just $45.00. 
Why Choose A Mermaid Prom Dress?
There are several reasons why you would choose a mermaid prom dress. One of them being that they're flattering. If you have curves, you can show them off with a gorgeous, clingy mermaid dress.
There are designs that are super clingy and others that aren't. If you have a straighter body shape, you can play around with the neckline, skirt, and proportions to get that sexy hourglass effect. 
Another reason is that they're versatile. You can choose a sexy open-back dress with rhinestones, a floral lace design, a feminine heart neckline with tulle details, and more. There will always be a style that will work well with your style. 
What Is The Best Body Type For Mermaid Dresses?
The best body type for mermaid dresses is hourglasses. The hourglass body is considered to be the perfect body type for mermaid dresses. If you have broad shoulders or wide hips, mermaid dresses aren't recommended.
Because of how body-hugging they are, they can magnify certain parts of your body, especially your shoulders and hips. Women with broad shoulders look more muscular in dresses with a mermaid cut. Additionally, if you have a rectangular or inverted triangle body shape, your shoulders will appear much broader. 
What Is A Mermaid Cut?
A mermaid cut is a style of gown that is fitted from the bodice through the hips with a skirt that flares out around the knee. This gives it the mermaid shape. It can also be known as a "trumpet wedding dress" or a "fit-and-flare".
However, these are all different in small ways. The mermaid has a flared skirt that begins around the knee. The other two styles have skirts that begin higher, flaring out between the hip and mid-thigh. 
What Are The Pros?
The biggest pro of mermaid-style gowns is that it hugs your curves. You can show off your curves well since these dresses hug your body well. It combines a classic appeal and fitted silhouette of the sheath with the elegance of a princess A-line. It's a fantastic choice for girls who want to make a statement on their prom night. Also, if you're shorter, it gives you the illusion of added height. 
What Are The Cons?
The biggest con to the mermaid style is movement restriction. Even though these dresses are undeniably gorgeous, they're also restrictive. It'll restrict your walking and dancing abilities. So if you enjoy being comfortable and want to dance the night away, this style won't be the best for you. 
What Shoes Work Well With Mermaid Dresses?
High heels are the best shoes for mermaid dresses. Any heel such as a stiletto, sling-back, and shoes-boats are the best for this style. You should never wear ballet flats because it may take the longer leg look away from the silhouette. 
Final Thoughts
As we've mentioned, the mermaid dresses are one of our favorites. They're elegant, unique, and come in a variety of styles and colors. We're huge fans of the plain styles because it keeps the dress looking modern while giving it a bit of mystery.
If you follow our recommendations above, you'll rest assured knowing you look your very best on prom night. Remember, avoid flats, wear your hair in an up-do to show off your open back if you have one, and wear makeup that matches your dress.